Don't you disrespect me, little man! Don't you derogate, or deride! You're in my world now, not your world, and I've got friends on the other side…
I fell in love with this Disney villain in the very first view. He had a new kind of charisma and a little twinkle in his eye but he also has that evil side.
So called Shadow man is a voodoo doctor but the funny thing about voodoo is that the spells don't work for him. That's why he needs someone else to do the dirty work. And that is where the story begins 😉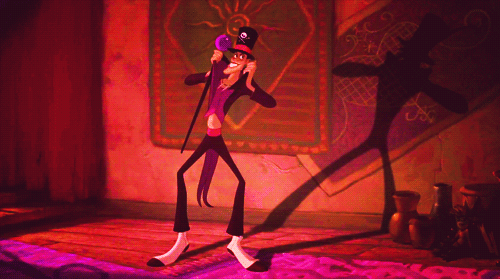 I have planned to do cosplay photos of this character as long as I've known him and actually already did it once, but those photos were terrible! I took them with self-timer and you can guess how that worked out 😀 This character also was one of the important source of inspiration when I planned my Evil Burlesque performance.  I even made my jacket to look just like his, except the little skulls that I've added.
I have to admit that I wasn't really good cosplayer, because I wanted to spice up the character a bit for these photos. I decided to leave my top hat off (from most of the photos) and added a bit cowboy look, because the hat worked so well with braids and make-up. I also chose a slightly different outfit to get more interesting texture for color lights.
Photos: Seppo Rantanen
Make-up: Muah by Molla
Corset: AntiShop
The Head: Horror-shop
Dr. Facilier from The Princess and the Frog